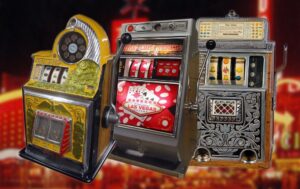 Slot machines are central to the casino experience. Even non gamblers are often drawn in by the bright lights and sounds of slot machines of say the 80's – 2000 era. Perhaps even more so than the very modern slots that have more of a resemblance to video games in some instances. For some though the only way to have an authentic slots experience in by playing on a retro slot machine of the type you'd find during the Vegas Heyday.
Old style slots take much of the complication of of your slots enjoyment. Instead of endless reels and mystifying ways of winning, it takes all of 5 seconds to understand how to play an old style retro slot machine, and you can simply sit there with your bucket of coins enjoying an authentic slots experience that harks back to simpler times.
Slots have moved on a great deal since their inception in the 1890s, but much like developments in computer games, modern doesn't always mean better, and that's how many no doubt feel about the aesthetic and play-ability of retro slot machines. The demand to play on this precious machines is unlikely to diminish, especially since they have already stood the test of time.
There's also a quirky component to the old school appeal. Some slots of yesterday used to even pay out in golf balls, gum or cigars. If you find yourself in Vegas you may not even need to go as far as the casino to get your retro slots fix, since many hotel lobbies have a collection of classic slots to play. It's a comforting and convenient way of both stepping back in time and also killing some time.