Retro Reminiscing: Elvis in Las Vegas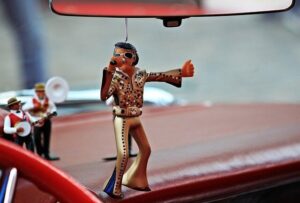 When we look at the casino world today in some way's there are so many changes. Many more casino venues exists today for instance, with a mind boggling number of slots and table games compared to days of old. The biggest change of course though has been the advent of online casino games. The internet essentially brought the casino into your home, with the combination of the convenience factor and faithful recreations of top casino games like slots and blackjack winning over many a gambler. Let's not forget though that essentially it all started with Vegas, and that the draw of the casino went hand in hand with the likes of Frank Sinatra and the rat pack, and iconic and captivating musicians such as Elvis Presley.
If ever there was a performer who shifted the meaning of what it meant to be a rock star and made women weak at the knees it had to be Elvis Presley. This iconic American singer (Love me Tender, Shake, Rattle and Roll) and actor (Jailhouse Rock, Viva Las Legas) attained worldwide fame for both his performance style and catchy hit records. His energised and provocative performances were seen to be controversial back in the day, even if by today's standards that appear rather tame.
In was the 1950s, a period of transformation in terms of race relationships, that led to Elvis' intention to bring the sound of African-American music to a nationwide audience. It was in 1956 that Presley's first single, "Heartbreak Hotel became a number-one smash hit in the US. That very same year he made his first movie appearance in Love Me Tender. After a military service stint he returned to both movies and music in the following years, and this at various points in time would bring him to Las Vegas.
Elvis wasn't always the nations number one though, many of his musical and movie contributions were derided leading to him taking a break of several years from live performing. The resurgence of his career especially in the realm of live performing came due to his Las Vegas residency. Though some would argue that his time in Vegas didn't coincide with him being in his best health, nevertheless the Vegas imagery and some of his live shows there form part of his iconic appeal and aesthetic to this day. He kick started his Vegas years (which actually covered the 50s, 60s and 70s) with a two-week residency at the New Frontier Hotel and Casino.
There can be no denying that the cross appeal of music entertainment and casino games through new and larger audiences to Vegas. What better way to spend your time than by enjoying a top Vegas show and then playing casino games we all know and love like slots, poker, blackjack, roulette and more besides – and all some of the most stylish and stand out casinos in the world.
Indeed Elvis was essentially the pioneer of the whole concept of a Vegas Residency; now a template of so many musicians in the modern age from Elton John to Lady Gaga. It's thought all in all he performed over 600 times. Top that! There are even Elvis Presley online slots games nowdays, which is both an homage to the great man, and also an interesting bringing together of the old and the new.