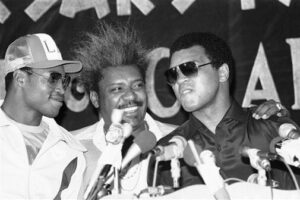 Sport is big business and so really it was a natural fit for Las Vegas to become home and host to some of the most iconic sporting events there has been. While interestingly Vegas didn't have a pro sports team until the NFLs Raiders move in 2020, baseball and the like have long since been a feature of the local area. NASCAR and hockey are also present in the area too. It's boxing in Las Vegas though that has delivered us many a moment that still lives long in the memory, and match-ups featuring some of the best boxers of all time, such as Muhammad Ali and Marvin Hagler. Of course in todays' online environment we get casino sites like https://www.casinositesreview.io/casino-games/ and sport betting for our sports and betting fix. So these themes and exciting showpiece events are as exciting for the public as ever.
In fact if we go through the decades there are title fights and rivalries that are remembered to this day. Who can forget Gerry Cooney vs. Larry Holmes in 1982; Thomas Hearns vs. Marvin Hagler in 1985; Manny Pacquiao vs. Floyd Mayweather Jr. in 2015.
In the late 40s to 50's boxing became big on TV screens across the nation, with boxing shows reaching many millions of Americans. This all took place courtesy of Friday fights at Madison Square Garden, New York. Ironically though, the national spotlight snuffed out boxing on a local level and for a time the sport fell out of favour.
Boxing's fresh start came in Las Vegas. Home to the rat pack and various live shows, Vegas already had a feel to it that was a good fit for big time boxing. Light heavyweight Archie Moore was to take on Nino Valdes for the chance of a title fight against Rocky Marciano and though not a roaring success it was the beginnings of what would eventually be.
In 1960 the Las Vegas Convention Center opened and it was the perfect setting for live sport. Before long it was in full flow with memorable encounters such as Sonny Liston's rematch with Floyd Patterson taking place there. It wasn't until the 70s though when Caesar's Palace began hosting bouts that interest reached its height. George Foreman took on Ron Lyle, and it was named fight of the year and the rest is history!
It was 1980, when Don King brought us a fight between Muhammad Ali and Larry Holmes that the crowds and cash went to the next level. The event followed by Sugar Ray Leonard drawing in a 23,000 crowd when he took on Tommy Hearns, cemented in place the idea of Vegas (and venues such as MGM Grand – which hosted multiple Mike Tyson fights – in addition to Caesars) as the premier setting for boxing and this has remained the case to this day. Fast forward to today and we have real money online roulette and live sport spreaming, so whether you're a bricks and mortar of virtual guy, getting involved in the latest big event is easy.